World Spine Day 2016
October 16 is World Spine Day. It's an initiative of the Global Alliance for Musculoskeletal Health (formerly Bone and Joint Decade) that is coordinated each year by the World Federation of Chiropractic (WFC). This year the theme is again "Straighten Up and Move" which accords with evidence supporting optimum care for spinal disorders and the World Health Organization's focus on physical activity as a way to combat a range of health disorders including cardiovascular disease, obesity and, of course, musculoskeletal disorders.
On this day people from around the world join together to raise awareness about spinal disorders. Millions of people in all continents of the world suffer with spinal disorders. These can include low back pain, neck pain, scoliosis and disc disease, to name but a few. Spinal pain and disability can have a profound effect on a person's overall health, sometimes preventing them from working or even doing simple daily activities.
Research has demonstrated that poor posture and inactivity are major contributors to the development of back pain and other spinal disorders. According to the World Health Organization, one in four adults is not active enough and over 80% of the adolescent population is not active enough.
The World Spine Day (WSD) theme of "Straighten Up and Move" wants to highlight the importance of physical activity and improving posture as part of good spinal health and prevention of injury. It emphasizes the importance of healthy spinal posture and activity which promotes body awareness and minimizes the day-to-day wear and tear on a person's spine. The theme of posture and movement supports the Bone & Joint Decade's Vision of "Keep People Moving". The intent of WSD is to bring people from all walks of life – patients, health providers, health care organizations, associations and governments to help ease this global burden of spinal disorders.
The "Straighten Up and Move" programme consists of a series of simple exercises and lifestyle recommendations taking just minutes each day to complete, Straighten Up and Move modules promote the improvement of posture and body core stabilization to help in the prevention of spinal conditions. They are easy and fun and can be completed quickly as a regular day-to-day preventative health practice. The 2-3 minute routines can help improve and prevent poor posture, which is a common trigger for general back and neck pain and can be undertaken by all ages. It is designed to empower people everywhere toward better spinal health and an improved quality of life. It also is meant to serve as an incentive and inspiration to take up a sporting activity like for example yoga, Pilatus or Qi Gong. These are some of the type of exercises that can strengthen your back and make you flexible.
This year the Namibian Chiropractic Association has joined forces with Yoga, Pilatus and Qi Gong teachers to get Namibian's moving. On Saturday, 15th October 2016 at 9:00 am a free Yoga/Pilatus class combination will be given at The Village in Liliencron street, Windhoek. The warm up for the class will be the Straighten Up Namibia exercises and then two experienced yoga and Pilatus instructors will guide you towards stretching and strengthening the core, back and hips. Don't miss this unique opportunity to do become inspired to do something for your back and health in general.
Visit the following webpages for more information
www.namibianchiropractic.org
and
www.risenamibia.com.na
As well as the Namibian Chiropractic Association and Rise Namibia facebook pages for more information and to sign up.
In addition we also teamed up with Guenther Maartens, a QiGong instructor who gives regular morning classes at Parliament Gardens. We will be presenting the Straighten Up exercises before each session during next week. Sessions are held Monday, Wednesday and Friday from 7:45 till 8:30.
If you, your school, club or company are interested in learning more about the Straighten Up exercises, proper posture, work ergonomics and maintaining spinal health, please contact the Namibian Chiropractic Association at elga.drews@iway.na to arrange a presentation by one of our chiropractors.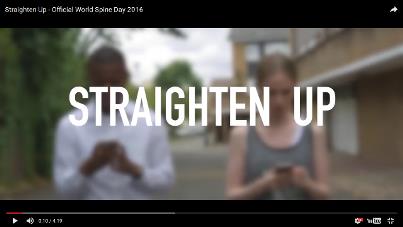 ---
Around the World
Namibia

ACF Congress Advances Sports Chiropractic in Africa
By Dr Brian Nook
The Third African Chiropractic Federation (ACF) Congress held in Windhoek, Namibia 3-4 June, 2016 was a truly historic event for sports chiropractic. In the presence of chiropractors from across Africa, including Botswana, Congo, Kenya, Namibia, South Africa, Uganda, Zambia and Zimbabwe:
The Congress was opened by the Deputy Minister of National Service, Youth, Sport and Culture Ms Agnes Tjongarero who spoke of the importance of "including chiropractic services in the medical support team for our athletes…at all levels". "I am here today," she said, "to demonstrate the support of our Ministry."
The Secretary General and Press Relations Officer of the Namibian Boxing Federation attended the whole Congress, together with several Olympian boxers who volunteered and were assessed and treated as demonstration patients. This led to the Secretary General insisting that all NBF boxers will see sports chiropractors in the future, and all of the athletes that attended were then scheduled with local chiropractors.
A marathon runner who had already qualified for the Rio Olympics attended for us - Dr Simon Lawson, President of Chiro Sport South Africa and me - to evaluate as part of the program. She and her coach were very appreciative, and she is continuing to be treated by a local chiropractor.
A Namibian paralympian swimmer Gideon Nasilowski also attended for evaluation and treatment by Simon and me. As reported by Dr Richard Brown, WFC Secretary General on Facebook: "This is Gideon 'the Amphibian Namibian' Nasilowski, with Brian Nook and Simon Lawson here at the ACF Congress. Gideon and his twin brother were both born with Artholiposis Multicomplex Congenita, a disabling condition that causes widespread joint fibrosis and locking. Despite being told he would never even walk he now competes internationally for Namibia and is confident of making it to the Rio 2016 Paralympic Games to complete in the S3 class 50m Freestyle. Today he had his first experience of chiropractic assessment and adjustment and was hugely impressed by the immediate functional improvement. He now plans to integrate chiropractic into his health and fitness regime and wants it to be available for all Namibian Paralympians".
After an outstanding program the Congress formally concluded with remarks from the Vice President of the Namibian Olympic Commission, Adv. Jesse Schickerling, who said: "I can see from this Congress how chiropractic has huge potential to make a contribution to sport". He invited the sports chiropractors in Namibia to present a proposal for further cooperation to the Namibian Olympic Committee, and mentioned that his niece had recently qualified as a chiropractor in South Africa.
Keynote speakers, Dr Brian Nook and Dr Simon Lawson, inspired all present with their lectures and practical sessions.
Other speakers included Dr Richard Brown, who spoke of his sports chiropractic practice and experience during 27 years in practice, including participation in the host medical services at the 2012 London Olympics.
Main praise for this exceptional and multidisciplinary Congress, attended also by sports MDs and PTs and nutritionists, must go to Dr Elga Drews, President, Namibian Chiropractic Association, ably supported by Dr Darryl Oehley. It was Elga, a qualified and experienced sports chiropractor, who chose the sports chiropractic theme and persuaded senior athletes and officials to attend. In elections held at the Congress Elga was elected ACF President.
read more
---
Madrid Students Bring Relief In Namibian Outreach Trip
By Elga Drews, President, African Chiropractic Federation
Each year, Madrid College of Chiropractic, during the clinical training provides a limited amount of credits to the students who voluntarily provide humanitarian chiropractic services to the people that otherwise would barely have access to any type of healthcare. During the academic year all the graduating classes get exposed to patients on a Caritas shelter home for refugees, immigrants and homeless in the heart of Madrid. And as the year comes to an end the ones who can afford come on a Mission trip abroad supported by the college, where they will have a life-changing experience. The first four cohorts have visited the Manaus in Brazil twice, Nepal and Peru. This time the choice was made easy by coming to Namibia. In 2015 during a visit to the Madrid College of Chiropractic in El Escorial we started discussing the possibility of collaborating when planning a mission trip for their next graduating class and soon it became clear that Namibia would be an ideal destination. The Minister of Health and Social Services in Namibia had called upon the private sector in the country to do outreach programmes into areas with a lack of services, so a mission trip of this kind fitted into this frame work perfectly. The Kavango and Zambezi regions in Namibia are two of the economically poorest regions despite their natural beauty. We chose the Kavango region for this mission trip mainly due to the dire need for health care and ease of accessibility. I have found over the years of dealing with various authorities that it is most advisable to organize and handle certain events in collaboration with other existing foundations and projects, so I contacted the Theresia Foundation and Komeho project to assist us with logistics and premises to deliver our voluntary services. When the 7 new graduates from Spain, France and Mexico, and the supervising clinician, Dr Carlos Gevers, finally touched down on Namibian soil on the 13th of June this year, excitement was great all around. An eight-hour car trip took us to our desired destination close to Rundu. Arriving in Kaisosi village, just 9km east of Rundu, on the first morning of the mission left us flabbergasted at the view of the turnout of patients. And the following 3 days in various locations had the same resonance. All in all the 7 graduates saw and treated close to 1200 patients in 4 days working from 8 till 5 or even later. There was magic in the air particularly at Mawanze village. We had 5 locals helping us with filling in the take-in forms for each patient and translating during treatments. Without their help it would have been extremely difficult and downright impossible to communicate and the mission would not have been half as successful. The challenges the people face in this area on a daily basis just for plain survival none of us will ever be able to comprehend. Most people that we saw do not have means to provide for 3 meals a day, let alone healthy balanced meals and least of all pay for any health care services. Although there are rural health care clinics these require a 5-15km walk or the need to arrange some sort of alternative transport. As was evident from the "medical passports" care given in these clinics, as well as a government funded hospital in the near-by town, was extremely limited to the prescription of Ibubrofen for whatever condition or complaint the patients presented with. As a high percentage of patients seen have had TB and also malaria in the past, immunity is in any case compromised, but adding the relatively high rate of HIV infected individuals just makes the whole scenario worse. The conditions seen and complaints presented were often heart-wrenching and more often than not we knew that just the fact that we took the time to listen to them, showed compassion and touched them was all we could do for them.
read more
---
World Spine Day
Since 2007 the international community has been celebrating World Spine Day every 16th of October. This day was announced by the Bone & Joint Decade and the World Health Organisation. The aim is to create awareness of the vast extent of suffering caused by spine-related disorders and the consequential disabilities. Globally chiropractic associations and their member chiropractors have made it their mission to call attention to the importance of looking after the back and the spine for optimal health. A specific exercise programme was developed to maintain flexibility and strengthen postural muscle groups. It is intended that this exercise programme is incorporated into a daily routine by young and old in order to avoid spinal illness.
The Namibian Chiropractic Association has put together a presentation explaining the basic biomechanics of the spine, office and home ergonomics, tips on how to sit, sleep and carry and the Straighten-Up exercise programme. Should you, your school, company, club etc. be interested in this presentation, you are invited to contact us for a demonstration.
We invite all to join us and have fun with the Straighten Up exercise routine! Download and follow the simple programme as illustrated.
Click here to download the exercise programme.

For queries, please contact the Namibian Chiropractic Association.
Bone and Joint Decade Action Week
"